Education. Masterminding. Collaboration. Community. And above all, a celebration of success.
The Exciting Windows! CEO Conference took place September 29th-October 1st, and 97.5% of Members and guests rated the event a 9 or 10 out of 10.
See what you missed
Download the CEO Conference Guide
Not only did our Members enjoy the three days of education and collaboration, but our non-member attendees found the conference to be extremely valuable as well.
So much so, that 3 of 4 non-member attendees have already joined Exciting Windows! as new Members. The 4th is expected to join soon.
We were joined by 40 window treatment business owners at the CEO Conference, who all gathered for the same thing. To build a better business through:
Better customers.
Better marketing.
Better systems.
Better profit margins.
Better vendors and trades.
Better employees.
Better friends and colleagues.
Our nationwide membership consists of window treatment professionals from every level of business experience and size. We have members who choose to run profitable businesses, solo, from their home, all the way to businesses with multi-retail locations and dozens of employees.
The annual gross sales of our members are from $250,000 to more than $10,000,000 per year. We support our members' goals whether they are looking for more profitability or more growth, or both.
The CEO Conference is the secret sauce and the magic of Exciting Windows!.
In this conference, we share proprietary information about our revenue, our margins, our compensation packages, our personal triumphs as well as our personal struggles.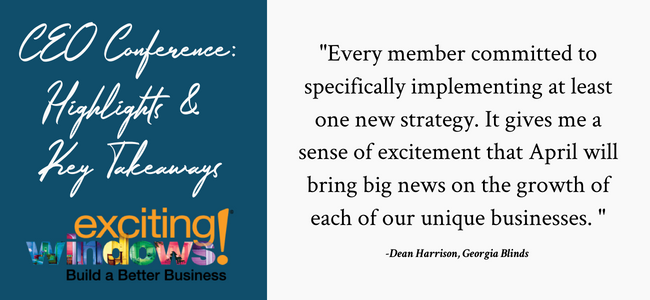 Better businesses don't get built alone. Exciting Windows! is a service to help you build a better business. Our members are among the highest profit owners in the industry.
You receive personal coaching by 4 partners that have helped hundreds of businesses. The partners share WHAT to do. Then, Exciting Windows! Members tell you HOW to do it.You exchange ideas on weekly Zoom Conferences, and attend two live national meetings per year.
Are you ready to build a better business? Join now and see what this community can do for you.